Carmel-by-the-Sea Police Department
Listen in to hear what Wanda has been up to in her community. Fast forward to 2:55
Peace of Mind Preparedness joins ECU and Eastern Area Health Education Center
Peace of Mind Preparedness was invited to speak at a Rural Disaster Mental Health Summit, a large-scale professional development training. This webinar, offered by ECU (East Carolina University) and Eastern Area Health Education Center, was funded by Don't Wait, Communicate: Disaster Mental Health Preparation and Response in Rural Schools and Communities.
Check our Leadership Carmel's new landing page and learn what Wanda and her teammates have been up to these past few months.
Monterey Herald December 2020: Letter to the Editor
Carmel Pine Cone December 2020: Letter to the Editor
The Importance of Volunteers
Peace of Mind Prep Urges Fire Preparedness
Read the article in the Monterey Herald.
Peace of Mind Prep goes live to talk about Wildfire and You. Listen in!
See Wanda 30 minutes into the video.
Carmel Neighbors program continues. Here is the latest.
Press Release: Fire Safe Council For Monterey County and Peace of Mind Preparedness presents Wildfire and You.
The Fire Safe Council for Monterey County and Peace of Mind Preparedness presents, Wildfire and You, an online workshop, to help seniors and people with disabilities prepare for wildfire. Learn how to prepare for wildfires before they start, to help protect lives and homes.
Sign up here for this FREE workshop.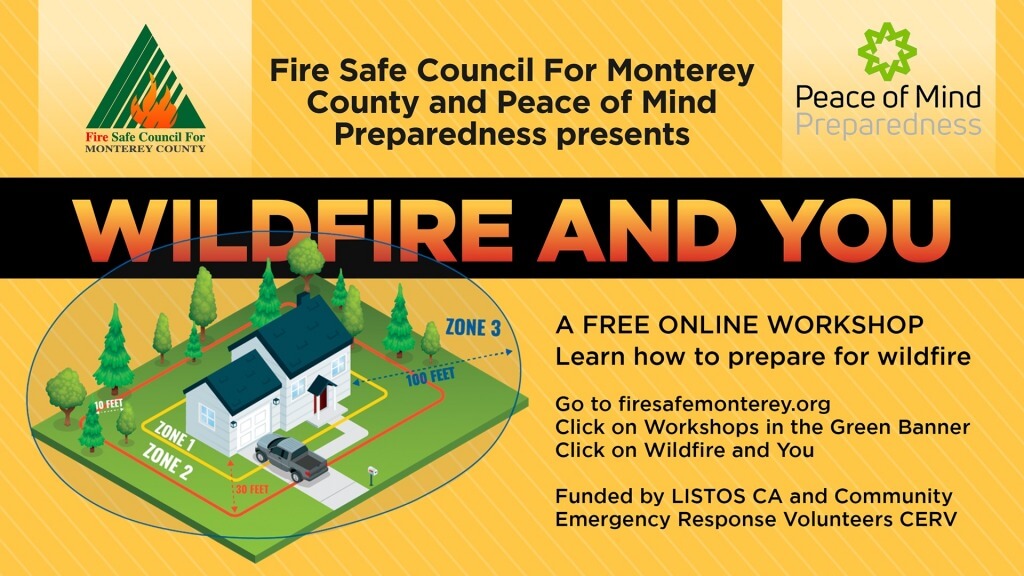 Disaster Preparedness Session with Santa Cruz County Association of Realtors
Sign up for Disaster Preparedness Session: Tuesday, October 6 at 10am. Everyone is welcome!
Carmel Chamber of Commerce: Leadership Carmel
Learn about the latest program Wanda has joined, Leadership Carmel. This is a 9-month professional development program designed to help current and future leaders in business and other community organizations develop their leadership skills, community knowledge, and professional networks. Through the program, participants will learn and refine their leadership styles, meet and make connections with leaders in the community, and discover opportunities for community engagement and involvement.
Learn about Carmel CERT (Community Emergency Response Team).
Check out the latest article in the Carmel Pine Cone about how to sign up for Carmel CERT classes. The Community Emergency Response Team (CERT) program educates volunteers about disaster preparedness for the hazards that may impact their area and trains them in basic disaster response skills, such as fire safety, light search and rescue, team organization, and disaster medical operations. CERT offers a consistent, nationwide approach to volunteer training and organization that professional responders can rely on during disaster situations, allowing them to focus on more complex tasks.
Emergency Readiness for Everybody
Wanda breaks down the Disaster Ready Guide from the California Listos program. Watch this video and learn about the many different aspects of disaster preparedness and helpful tips to get you ready. 
The role of Health and Communication Passports in Emergency Preparedness
Watch this video on the importance of these tools for individuals, families and their caregivers when it comes to communicating in the event of emergencies and non-emergencies.