The VLES Designs Go-Bag – Peace of Mind Preparedness Favorite
Organization – It's What Marie Kondo and VLES Have in Common
A place for everything, and everything in its place…it makes operating in an emergency fast, efficient and less stressful. When we designed the VLES GO-bag we drew heavily on our experience and other first responder's experience. The simple takeaway was to make sure everything was highly visible, easy to access, and logically packed. So even if you find yourself in the dark, we wanted to make sure you could get what you needed when you needed it. To us, a backpack or duffle bag simply would not suffice. This translated into the following design features of the VLES GO-bag:
The entire bag opens up completely – you can see everything you have
There are three organizing modules, each opens up completely as well
One module contains most of the supplies, packed in clear kits making the supplies easily visible
The kits themselves are logically organized into four categories: first aid supplies, emergency supplies, hydration and personal care 
The convertible messenger module is navy, same as the bag, so there's no confusion which module converts
There's an RFID sleeve in the messenger module for your critical documents, so you'll know where they are and they'll always be with you.
An unexpected emergency situation is stressful and confusing. Knowing where your supplies and critical items are should be the last thing you have to think about. 
– Stuart Warshaw, Owner/Founder VLES Designs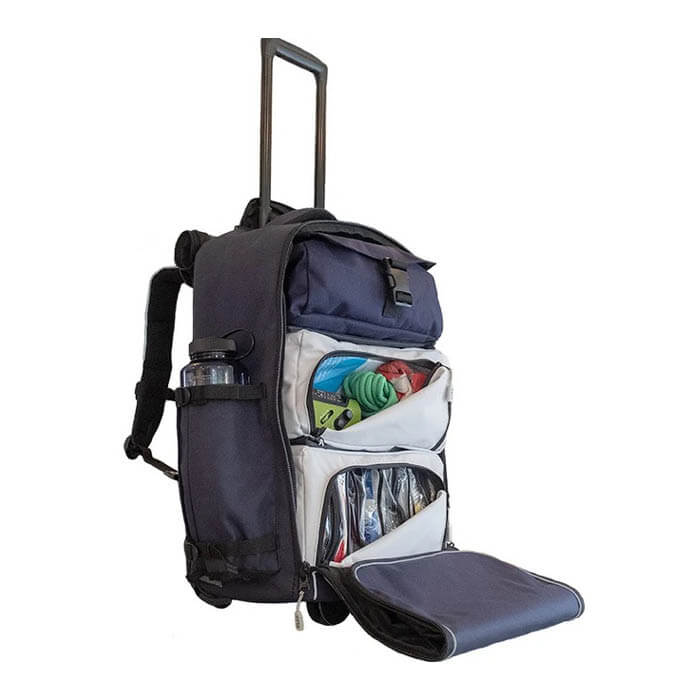 Stocked with supplies that exceed FEMA/Red Cross standards.
Good for two people for 72 hours.
Roll, wear as a backpack or carry with strategically placed handles.
100% Quality Assured
30% of your purchase goes to Big Sur Fire.
Thank you VLES Designs!